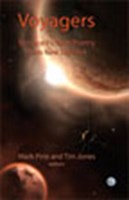 Voyagers: Science Fiction Poetry From New Zealand
Prose writers have had it their own way for too long. At last, here is an anthology of poetry from New Zealand that captures the essence of science fiction: aliens, space travel, time travel, the end of the world - as well as concepts you may not previously have thought of as science fiction. Fasten your seatbelts as editors Mark Pirie and Tim Jones present some of New Zealand's best poets - past and present - shining the flashlight of science fiction on our universe, and relishing the strange images that result.
Bristling with insight, sections like Back to the Future, Apocalypse Now, Altered States, ET, When Worlds Collide and The Final Frontier will have you speculating right along with the poets.