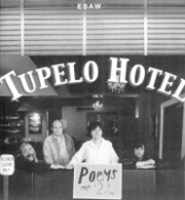 Tupelo Hotel
Winter Readings is an annual event in Wellington organised by HeadworX Publishers, Earl of Seacliff Art Workshop and Kwanzaa - the Afrikan Shop. The aim is to promote New Zealand poetry to the wider public through a series of lively readings taking place in the winter months in Wellington. Each year an anthology of the readers is produced and is edited/compiled by Mark Pirie and published by the Earl of Seacliff Art Workshop.
This year's readings were held at Tupelo Bar, Wellington, and are a tribute to American rock band The Doors. 
Winter Readings 2004 featured: Jenny Powell-Chalmers, Mark Pirie, Michael O'Leary, Helen Rickerby, Harry Ricketts, Niel Wright, Harvey McQueen, Moshe Liba, Emily Dobson, Amelia Herrero-Kidman, Michael Harlow, Robin Fry, Iain Sharp, Basim Furat, Moira Wairama and Jack Ross.