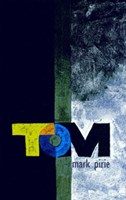 TOM: A Novel in Verse
I am nineteen, I live in a souped-up Victorian temple, I make confessions to Katherine Mansfield's ghost, and write poetry no one will read…
Mark Pirie's new book, Tom, is a verse novel set in Wellington during the mid-'90s. It follows the adventures of a struggling, young student and artist, Tom Grant, in his quest to become a writer and forge his own identity.
Witty and inventive, Tom makes use of postmodern pastiche in the form of journal entries, notes, quotes, prose poems, free verse, rhyming verse, haiku and essays to portray the life of a young city idler labelled a representative of 'Generation X'.
Included are a vast array of literary and pop culture allusions and jokes.
"[Pirie] displays a wicked sense of humour and a cunning sense of style."  - Bill Direen, New Zealand Listener
'It's a verse novel, a post-modern pastiche of many literary forms, about a struggling young Generation X student in Wellington in the 1990s. The music is alien country to me but the ideas are stimulating. They give me glimpses into how Generation 'X'ers think and move. Tom writes an essay on Hopkins. 'Gerard Manley Hopkins wasn't around to hear the blues or the beat of a drum machine but some useful comparisons can still be made.' - Harvey McQueen