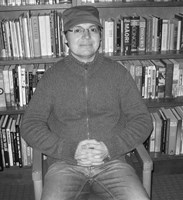 Thinking Cap: A Book of Epigrams
ANON

Putting yourself in the public domain;
Remember to leave out your name.

Thinking Cap is Mark Pirie's latest collection of poetry. It consists of over 80 epigrams written over the past year.

Following in the footsteps of New Zealand verse satirists like Denis Glover, Rex Fairburn, Karl Stead, Harry Ricketts, R G Park and Niel Wright, Pirie updates the New Zealand epigram in contemporary settings of pop culture and literature

The book has been divided into six sections: 'General', 'Film/TV', 'Music', 'Literature', 'Love' and 'Public'

Witty, ribald, and biting, Pirie runs a knowledgeable eye over many aspects of contemporary society and history.