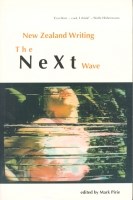 The NeXt Wave: New Zealand Writing
The NeXt Wave is an iconoclastic collection of writing by a new generation of New Zealand writers.
It presents a sample of the emerging and innovative voices of the 1990s. hard-edged realism and fantasy, pulp and Science Fiction, postmodernism and multiculturalism mix with unruly urban rhythms and the shrill drive of popular youth culture and modern performance poetry.
The anthology includes an introduction by editor Mark Pirie, and a bibliography.
'The NeXt Wave is important, because it reminds us we're not a country made up solely of middle aged middle-class... The NeXt Wave is a collection of new voices, some with the potential to become the next vanguard of New Zealand Literature...' - Pavement
'An excellent introduction to where New Zealand literature is at.' - Sunday Star Times
'Mark Pirie has done a great job in selecting a stimulating body of work.' - The Listener
'The Next Wave is a feast set out, not all vegetarian, but very tasty.' - City Voice
'This is a gripping collection of 33 of this country's emerging writers.' - Evening Post
'To realistically place such writing in context, and to select a truly representative body of work is a huge task riddled with cultural minefields. Pirie has tackled it with assurance and intelligence, and his book looks set to join the landmark anthologies of our national literature. In fact, this could well be the anthology of the 1990s.' - NZ Books
'One must recognize the serious treatment of these changes and directions in New Zealand writing. One must also appreciate the young writers' efforts to give their literature a new shape . . . I think this publication is a successful attempt that will eventually force the established academics to think about these trends and to notice the new writers, even if they have to redefine literature.' - World Literature Today, USA.