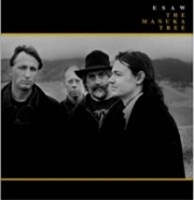 The Manuka Tree
Winter Readings is an annual event in Wellington organised by HeadworX Publishers, Earl of Seacliff Art Workshop and Kwanzaa - the Afrikan Shop. The aim is to promote New Zealand poetry to the wider public through a series of lively readings taking place in the winter months in Wellington. Each year an anthology of the readers is produced and is edited/compiled by Mark Pirie and published by the Earl of Seacliff Art Workshop.
This year's readings were held at St John's Church and are a tribute to Irish rock band U2. 
Winter Readings 2005 featured: Alistair Te Ariki Campbell, Meg Campbell, Yilma Tafere Tasew, Harry Ricketts, Michael O'Leary, L E Scott, Joy McKenzie, Bill Dacker, Mark Pirie, Richard von Sturmer, Vivienne Plumb, Helen Rickerby, Tim Jones, Robin Fry, Amelia Nurse, Scott Kendrick and Therese Lloyd.