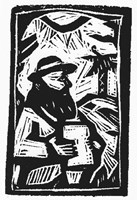 The ESAW Poetry Prize
The ESAW Poetry Prize began in 2007. Its winners have included emerging and established New Zealand poets and has helped to recognize poets outside the mainstream presses and publishing houses. The winners are: Evelyn Conlon 2007, Will Leadbeater 2008, Jill Chan 2009, Robin Fry 2010, Barry Southam 2011, Jeanne Bernhardt 2016, Mary Maringikura Campbell 2017, Bill Dacker 2018 and Jeremy Roberts 2019.
The book is compiled by Mark Pirie who helped Dr Michael O'Leary, the Earl of Seacliff, with the selection process for the award mostly presented at Winter Readings in Wellington, 2007-2019.
Cover art is a woodcut of the Earl of Seacliff by Nigel Brown.