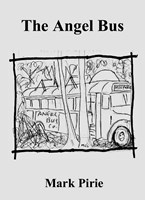 The Angel Bus: Songs 1992-1994
The Angel Bus is Mark Pirie's collection of his early song lyrics written between 1992-1994. At the time Mark had been attempting to form a band called Hydraulic Sidearm though various attempts to start it never left the bedroom. These lyrics are what remain from the period.
The cover is after Ken Kesey's magic bus and is drawn by Michael O'Leary.