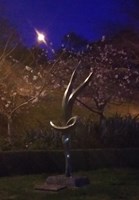 Star Words
Star Words: Science Fiction and Speculative Poetry From New Zealand is compiled from poems read on 30 October 2019 at the 10th anniversary reading for Voyagers, winner of the Vogel Award for Best Collected Work 2009. Contributors: Janis Freegard, Tim Jones, Harvey Molloy, Mark Pirie, Vivienne Plumb, Nick Ascroft, Margaret Jeune, Tabatha Wood, Tony Hopkins and Michael O'Leary. To the memory of B. E. Turner, technical editor of the ESAW Mini Series, d. October 2019. Cover photo is by Margaret Jeune.
About the Editors
Tim Jones was awarded the NZSA Janet Frame Memorial Award for Literature in 2010. He has published five collections of poetry, one novel, a novella and two short story collections. He has co-edited two Australasian poetry anthologies specialising in speculative, fantasy, horror and Science Fiction poetry.
Mark Pirie is a Wellington poet, editor and publisher. Pirie has published four mini books previously with ESAW, a biography Tom Lawn, Mystery Forward and written or edited a number of poetry collections, including the Winter Readings series and a selection of early poems, Giving Poetry a Bad Name.