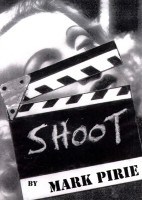 Shoot
Shoot is the first book of poems by Wellington writer and editor, Mark Pirie. It collects the best of his early work, from 1994-1997, all of it written while in his early twenties. Pirie's poems display a wide range of styles and techniques and are distinguished by a deceptive simplicity, an innovative use of cinema and video terminology, and by the physicality of their image making.
'Mark Pirie is one of the emerging poets of the 90s: his poems display an impressive energy, inventiveness and clarity of image. An already significant poet in the initial stages of his career' - John O'Connor
'All is bright and big screen - much is funny, especially 'Index'.' - NZ Herald
'Pirie's Shoot displays a wicked sense of humour and a cunning sense of style.' - The Listener
'Mark Pirie's . . . first book of poetry shows a genuine talent augmented by a high degree of competence and skill . . . I recommend this collection with work like 'Journeys', 'Six Insignificant Landscapes', Three Short Films', and in particular 'Progress' . . . poetry like this . . . demonstrates a capacity to convert the commonplace into poetry, an extremely high degree of poetic accomplishment and an ability worthy of recognition and respect.' - New Zealand Books.
'The fact that this book is so well-done, it carries some of the weaker poems.' - Tom Weston, The Press, Christchurch