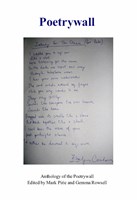 Poetrywall: Anthology of the Poetrywall
Winter Readings is an annual event in Wellington organised by HeadworX Publishers, Earl of Seacliff Art Workshop and Kwanzaa - the Afrikan Shop in conjunction with Wellington City Council and the City Gallery. The aim is to promote New Zealand poetry to the wider public through a series of lively readings taking place in the winter months in Wellington. Each year an anthology of the readers is produced and is edited/compiled by Mark Pirie and published by the Earl of Seacliff Art Workshop.
This year's readings are a tribute to the British rock band Oasis.
At the readings a poetrywall was installed on the City Gallery wall and poets wrote poems across it. An Earl of Seacliff Poetry Prize was awarded to the best poem on the poetrywall. The winner was Evelyn Conlon.  
The anthology of the poetrywall was co-edited by Mark Pirie and Gemma Claire (Rowsell).