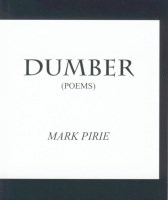 Dumber: Poems
What do you propose, a marriage?
It can be arranged, I hear...
Mark Pirie's new collection laments that our culture is getting 'dumber' and thus presents poems that are both parodic and purposely 'dumb'.
Written in the frame of a mock conversation with God, it covers wide ground: religion, history, literature, people and places, and in doing so reveals once more the complexities and the absurdities affecting our everyday lives.