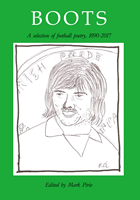 Boots: A Selection of Football Poetry 1890-2017
Boots is a collection of historical football poems by international contributors, which was first published in New Zealand as a special football issue of the periodical broadsheet: new new zealand poetry to coincide with the 2014 FIFA World Cup in Brazil.
The poems celebrate 'the beautiful game' with a range of emotions, critical insights and expressions/images of the much-loved international pastime.
The book includes a Foreword by the former New Zealand international footballer Michael Groom 1980-84, and an afterword by the London memoirist, translator and poet Anthony Rudolf.
Contributors include the well-known and renowned to first-time authors and occasional versifiers: Dannie Abse, Nick Ascroft, Simon Boyce, James Brown, Albert Craig, PS Cottier, John Dickson, Michael Duffett, Ben Egerton, John Gallas, C.W. Grace, Dylan Groom, Vaughan Gunson, Jeff Hilson, Tim Jones, Gary Langford, Moshé Liba, David McGill, Harvey Molloy, Michael O'Leary, Bill O'Reilly, Mark Pirie, Harry Ricketts, Alan Ross, Kendrick Smithyman, Grant Sullivan and André Surridge.
This new edition includes new material found by the editor in the past three years.
Cover image: George Best by Michael O'Leary
"Mark Pirie's compilations are always interesting and worthwhile." – John Symons, Journal of the Cricket Society, Autumn 2014
"The authors in this collection have had their hearts and souls moved by the game they love." – Michael Groom, New Zealand All White 1980-84, from the Foreword