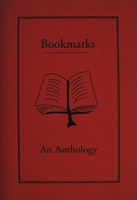 Bookmarks: Winter Readings at Bizy Bee's
Winter Readings is an annual event in Wellington organised by HeadworX Publishers, Earl of Seacliff Art Workshop and Kwanzaa - the Afrikan Shop. The aim is to promote New Zealand poetry to the wider public through a series of lively readings taking place in the winter months in Wellington. Each year an anthology of the readers is produced and is edited/compiled by Mark Pirie and published by the Earl of Seacliff Art Workshop.
This year's readings were held at Bizy Bee's bookstore and an anthology Bookmarks was edited in memory of Wellington bookshop proprietor and art writer Neil Rowe.
Winter Readings 2003 featured: Mike Eager reading for the late Simon Williamson, Anna Jackson, Michael O'Leary, Mark Pirie, Helen Rickerby, Harry Ricketts, Jenny Powell-Chalmers, Niel Wright, Harvey McQueen, Tim Jones, L E Scott, Vivienne Plumb and Scott Kendrick.