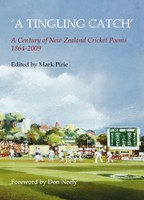 A Tingling Catch: A Century of New Zealand Cricket Poems 1864-2009
'A Tingling Catch' is the first anthology of New Zealand cricket poems to be collected. This substantial volume traces the history of cricket poetry in New Zealand from 1864 to 2009 spanning 145 years of New Zealand cricket. It brings together verse and song by some of our best poets - past and present. From Samuel Butler's classic description of the visiting All-England XI in 1864 to Arnold Wall's widely known First World War piece, 'A Time Will Come', to the 'underarm incident' of 1981 and more recent cricket poems that feature current members of the New Zealand team.
'A Tingling Catch' is presented with notes by editor and cricket follower Mark Pirie and a foreword (a poem) by wellknown cricket historian, former national selector and former President of NZ Cricket, Don Neely. It contains over 100 poems and songs and features a wide variety of forms and styles from rhyming poetry to free verse and is sure to appeal to cricket lovers and poetry readers of all ages.