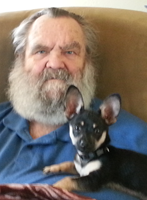 20 Sonnets
Michael Duffett (1943-2019), a Californian Professor and poet, died last year from a terminal illness. He left behind many unpublished and uncollected poems which he had been sending to his poetry editor Mark Pirie in New Zealand since 2014.
Pirie has put together a posthumous sequence from Duffett's mostly untitled sonnets, in order to keep in print the best of Duffett's poetry for research libraries and his readers.
In 2019, Duffett's book, The Presence of Love: Poems Selected and New was published by Pirie's publishing company HeadworX in New Zealand.